Last Updated on
Zumba is a relatively young dance direction, the author of which in 2001 was Alberto Perez, a Colombian choreographer dancer. This fitness program combines elements of hip-hop, salsa, samba, merengue, mambo, flamenco, and belly dancing.
This super-mix made the zumbu one of the most popular slimming exercises in the world: at the moment it has spread to more than 180 countries! Its original name translates from the Colombian dialect as "buzzing, moving fast".
What did Zumba conquer people so much?
The fact is that this is not just an ordinary dance program. It is a cheerful, incendiary, energetic exercise, which helps to get a great physical shape. Its goal is to work out the maximum number of muscles, while not exhausting you with repeated repetitions of trivial exercises.
For an hour of crazy dances, you can burn about 400-500 calories. Also, Zumba-fitness is a great cure for stress, helping to become more confident, positive, and liberated.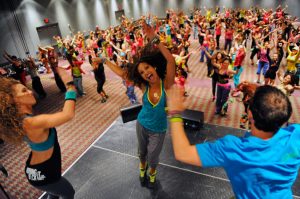 Zumba dance workout classesAs a rule, group training for Zumba fitness lasts 45-60 minutes. The lesson begins with a dynamic warm-up and ends with stretching, and all this goes under the characteristic music. The main part of the program includes 8-10 songs in the Latin American style, each song has its unique choreography.
The choreography in Zumba is usually very simple and consists of only a few dance movements that combine into bunches and repeat throughout the song. After a few lessons, even a person completely remote from dancing can remember the basic movements from the program.
In just 15 years, the ZUMBA brand has become one of the most popular in the fitness industry.
The basis for fitness dancing is rhythmic movements for specific music. Doing Zumba-fitness, you at the same time will learn the movements of salsa, merengue, kumbia, and reggaeton, as well as mamba, bachata, rumba, flamenco, and calypso. But all the dance elements are very simple and focused on an unprepared person. This knowledge will be useful and then – at any party in the club you can flaunt the movements from the dances. In addition, Zumba classes will help you feel your body and music better!

Directions of a Zumba

Over time, various Zumba directions appeared. For example, Aqua Zumba for swimming lessons. Zumba in the circuit, which is a high-intensity workout for weight loss is good like swimming. Or Zumba Toning, which includes classes with small dumbbells. In addition to the basic program, the Zumba also provides the following training directions:

Sentao. Dance fitness program using stool;
Step. Dance fitness program using a step-platform;
Aqua. Dance fitness program adapted for the pool and pond;
Toning. Fitness program using light weights – dumbbells in the form of maracas;
Kids. Dance fitness program for children aged from 4 to 7 years and from 7 to 11 years;
Gold. Dance fitness program based on Latin and world rhythms. It is an aerobic interval training. The program is adapted for older people, for those who have never engaged in physical activity, for those who undergo rehabilitation after trauma, as well as for people with musculoskeletal disorders.
Zumba workout
Pluses of training Zumba:
Zumbais a good aerobic exercise that will help you burn excess fat and tighten the body.
2. Lose weight with dancing is not only effective but also fun. This is exactly the case when fitness brings real pleasure.
By regularly practicing this dance program, you will become more plastic and graceful.
Everyone can learn this dance! You do not need to have some impressive skills for this. In addition, all the choreographic movements in the program are simple and understandable.
Dancing passes under energetic and incendiary music, so training will give you real positive emotions.
This kind of fitness is suitable for beginners, newly-born girls, and those who are far from sports.
During the classes, you will work through all the problem areas: the abdomen, thighs, buttocks, including using even the deepest muscles.
It is every year is gaining increasing popularity in the world, so training is conducted in many fitness rooms. Also created and home video programs for lovers of studying at home.
Cons and features:
To remember dance movements, it is advisable to regularly attend classes.
The choreography in training is simple enough, but still, it's a dance program, so for successful classes, you will need good coordination and a sense of rhythm.
Conclusion
In itself, the Latin American origin of the Zumba makes special demands for the instructor, who must charge and ignite the collective with his bright temperament. Dynamic music and rhythmic movements in conjunction with an incendiary instructor create an absolutely incredible atmosphere of physical training projected through the dance. This attracts every year more and more customers to this area of ​​fitness. Having tried it once, Zumba-fitness absolutely will not leave anyone indifferent.